Once you've landed at the Phnom Penh airport and picked up your visa, all the formalities are in place and no doubt you'd like to get downtown quickly, but how, and at what price?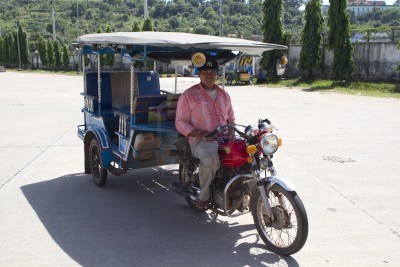 « Official » taxis and tuk-tuks await you at the baggage claim, with a journey downtown costing $9 by cab and $7 in a tuk-tuk, but you can still save a few dollars.
Our tip is to leave the airport itself and take a ride in a tuk-tuk with one of the drivers who approach you on the sidewalk. They will open with a price of $7 to downtown, but the « real » price is around four or five dollars – so be sure to negotiate. The journey between the airport and downtown takes around 30 minutes. However, with traffic jams being fairly frequent in Phnom Penh, you can allow an extra 10 to 30 minutes depending on when you land.